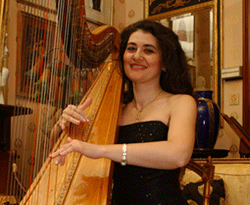 Shell we discuss my Harp music selection for your upcoming wedding? As part of my service, I offer a no obligation, free consultation to anyone planning a wedding. We can discuss all the musical needs of your wedding and you may hear a selection of harp music. For now, I would like to present audio selections through the website. Click on the links of your choice and play the audio selections.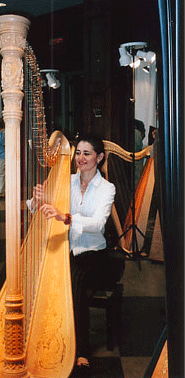 1. G.Handel, Excerpt from Prelude and Toccata
2. C.Debussy, Girl with the flaxen hair
3. C.Debussy, Arabesque
4. I. S. Bach, Excerpt from Suite
5. F.Lehar Waltz from operetta "Merry Widow"
6. D.Raskin famous Jazz theme "Laura"
7. R.Rodgers and L.Hart, Bewitched, Bothered, Bewildered
8. G.Gershwin, But Not For Me